Please frequent our concert sponsors. For the 2016 concert series, our sponsors are listed below. LBHOA is grateful to each of our sponsors for demonstrating a commitment to community and a generosity in spirit.
For more information about sponsorship and it's benefits, please click here.
Heartbeat City
Our July 24, 2016 concert is sponsored by DeBraal & Rau, Re/Max Estate Properties. Both Robin DeBraal and Cheryl Rau have been active in the LBHOA by volunteering time and expertise to the LBHOA board of Directors, as well as numerous past events sponsorship. Robin was instrumental in the original formation of the LBHOA and has served as a past president.
Pacific Porsche is a new sponsor for the LBHOA Concert Series, and we are excited to have them as a first-time sponsor. We look forward to a lasting relationship with this 2016 Premier Porsche Dealer.
Caught Off Guard
On July 17, the Lunada Bank branch of Chase Bank sponsored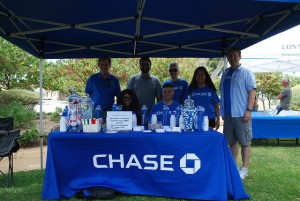 a community BBQ and concert featuring Caught off Guard. This is our first
collaboration with Chase Bank, and LBHOA is grateful for their support.
Met the Man, Shook His Hand
On June 26, Maureen Megowan, Re/Max sponsored a concert featuring a Jazz Combo from PV High School.
Maureen is a long term sponsor of LBHOA events, and a friend of the community.