League of Women Voters Candidate's Forum for Upcoming City Elections
The LWV hosted a candidate's forum on Thursday, Feb. 2 in the City Hall Council Chambers.  MCHA and LBHOA collaborated to have the session video recorded. The videos can now be viewed by clicking here.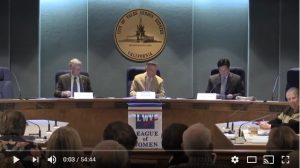 For more information on the candidates, please see our page by clicking here, or visit the City of PVE website.
Fire and Paramedic services in Palos Verdes Estates are provided by LA County and funded through a parcel tax which requires voter approval of Measure D in the upcoming March 7 general election.  The PVE City Council appointed a Fire and Paramedic Funding Citizens Committee, which studied the issue and concluded that the parcel tax is an effective and equitable way to pay for the service, and that the service is provided at a lower cost relative to costs other local cities pay.
The LBHOA Board of Directors has endorsed the Citizens Committee recommendation for approval of Measure D, and encourages our members to become familiar with the issue.  For more detailed information, please click here.
If you would like to add your name to the list of residents in favor of Measure D, please sign our petition here.  We have enabled comments on the petition page, so, if you feel strongly about this issue, make your views known!

Lunada Bay celebrated the holiday season with one of our largest crowds ever!  We've uploaded photos, so scroll through them below, or visit the LBHOA Flickr page.
2016 marked the first year of the Citizens Academy, an 10 week course covering the inside story of how your city works. If you are interested in participating, please see the invitation that we've posted here. We have not seen this year's agenda, but if you can click here to see last year's (2016) program.
We hope that you enjoyed the 2016 Concerts-in-the-Park Series. Your concert committee worked very hard to find great talent and organize the events so that our friends and neighbors could enjoy our community spirit. They were able to recruit Friend of Lunada Bay sponsors to help defray almost all the costs of putting on the events! Please click here to help us make next year's series even better by completing the on-line survey!
LBHOA has been working with the Palos Verdes Peninsula Land Conservancy and the city of PVE to launch a community supported effort to revitalize our bluff top landscape. To learn more about the Beautify Lunada Bay project, visit our new site and donate!