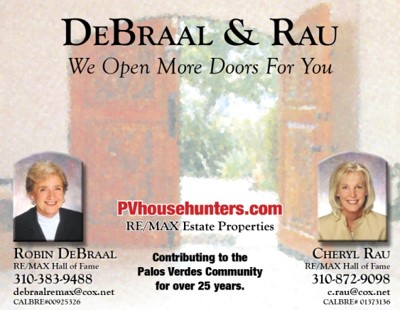 DeBraal & Rau are the local choice for all your real estate needs. Both chose real estate as a second career because of their genuine desire to help people with the difficult but rewarding task of finding and selling a home.
Robin and Cheryl know the local communities like few others do. Their understanding of the Peninsula's past and present real estate market gives them an excellent vantage point to predict its future trends as well. Ask any recognized expert in real estate, what is the most important characteristic in selecting an agent and you will hear "local market expertise". Robin and Cheryl have it!!
The DeBraal's moved to Lunada Bay in 1972. Their children attended the PV schools from elementary through high school. Todd graduated from PV High in 1988 and Derek in 1989. The Rau's moved to Lunada Bay in 1997. Both their children are also products of the PV School system. Mike graduated from PV High in 2010 and Hannah in 2013.
Robin holds a Bachelor of Arts Degree in Political Science/American History. Post graduate courses in Marketing, Dispute Resolution, and Mediation. Cheryl holds a Bachelor of Science in Civil Engineering. Her engineering background included employment with Bechtel Power Corporation and Hughes Aircraft Company.
Both are members of the REMAX Hall of Fame and have achieved recognition as a Top Team for REMAX on numerous occasions. They have also been awarded the Palos Verdes Specialist designation from their Local Board of Realtors.
Cheryl and Robin hope you enjoy the Lunada Bay Homeowners Concert Series of which they have been a proud sponsor since the concert series inception and if you are looking for Local Market Expertise, look no further than DeBraal & Rau, "We Open More Doors For You".